Science, Technology, Engineering and Math (STEM) Programs and Activities on Kauai
If you know of other STEM programs on Kauai, please send us information on them, by email to info@kauairoboticsalliance.org, and we'll add them to this list.
KRA Robotics Workshops
In the summer of 2014, KRA began to offer half-day workshops in which Kaua`ibots team members teach other students of all ages to build and drive small robots (which they could keep). The first set of classes were very popular, and planning is now underway for more - watch this space for announcements.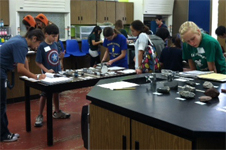 Science Olympiad (K-12)
This is a many-event competition in which students show off not only their mastery of facts, but their skill at designing, building, experimenting, and communicating. Teams compete at the K-3rd grade, third - sixth grade, middle school, and high school levels; individual students specialize in one to a few events. While teams are organized by schools, homeschooled students are welcome to participate. The Kauai tournament is in January; the Hawaii state tournament is in March. There is a national tournament for middle and high school students. For more information go to the website of the Hawaii State Science Olympiad.
KCC Kids' College (middle school)
Each summer this program offers several 1-week science/engineering workshops for middle school students. Here's a description of the 2014 Kids College offerings.
Inventing With Electronics and Software
In these classes, students design, build, and program both standard, and their own, electronics programs based on an Arduino. The level of the class is suitable for high school students, adults, and some middle school students. It's been offered on a series of Saturdays in the summer by Kauai Innovation Labs. Here is a detailed description of the first session.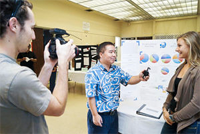 Science Fair (middle and high school)
We need to get more information on this; there doesn't seem to be a single information webpage on the Kauai Science Fair.
Summer Marine Science Camp
In this 5-week camp, presented by Malama Na Apapa ("Take Care of the Coral Reefs"), middle and high school students gain their SCUBA certification and learn about local marine life and environmental issues, underwater photography and videography, and how to take scientific surveys and measurements. Two of the students from the 2013 camp went on to do marine research for their senior projects. Another camp session is planned for the summer of 2015. Click here for more information.
Island School Summer Science Camp
Most years there's a science camp for elementary and/or middle schoolers at Island School in Lihue. Usually these are announced in March or April and run in late June and early july. For more information, email admin@ischool.org.